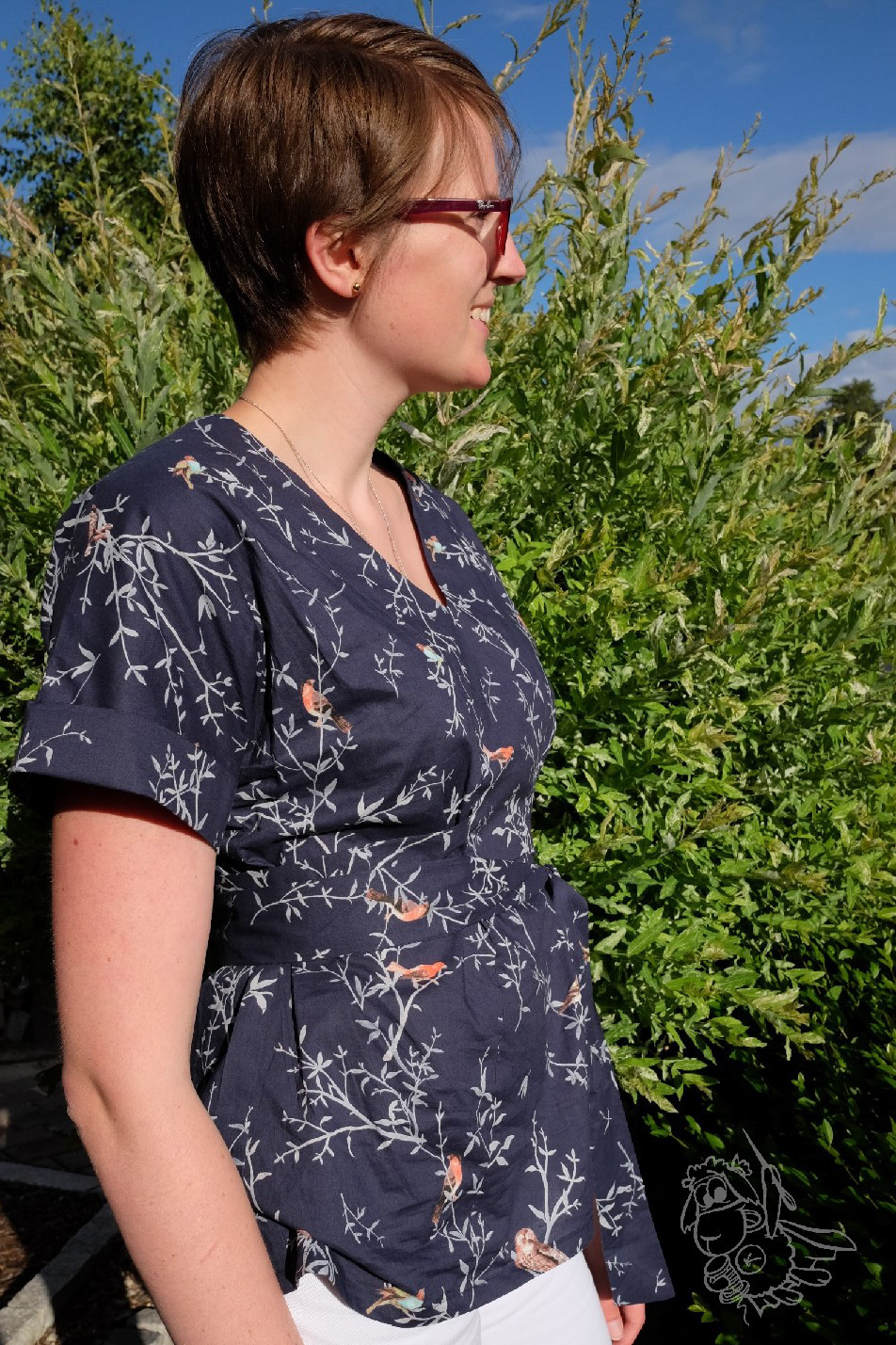 Heute ist Zeit für Premieren…
Premiere 1: Dies ist mein erster Post, der hier auf kreamino.com erscheint… eigens gehostet und in wordpress erstellt – Zeit für einen kleinen Freudentanz.
Premiere 2: Dies wird mein erster zweisprachiger Beitrag, denn heute bin ich Teil der internationalen Tea House Party Tour.
Today is a premiere-day.
1st premiere: This is my first post at my own hosted wordpress blog. Time for a small happy Dance.
2nd premiere: This is my first bilingual post. As a part of the international Tea House Top and Dress Party Tour this step was quite clear for me. Just one wish from my side to my international readers: If you find grammar mistakes and or typing errors – Keep them to yourself, please ! 😉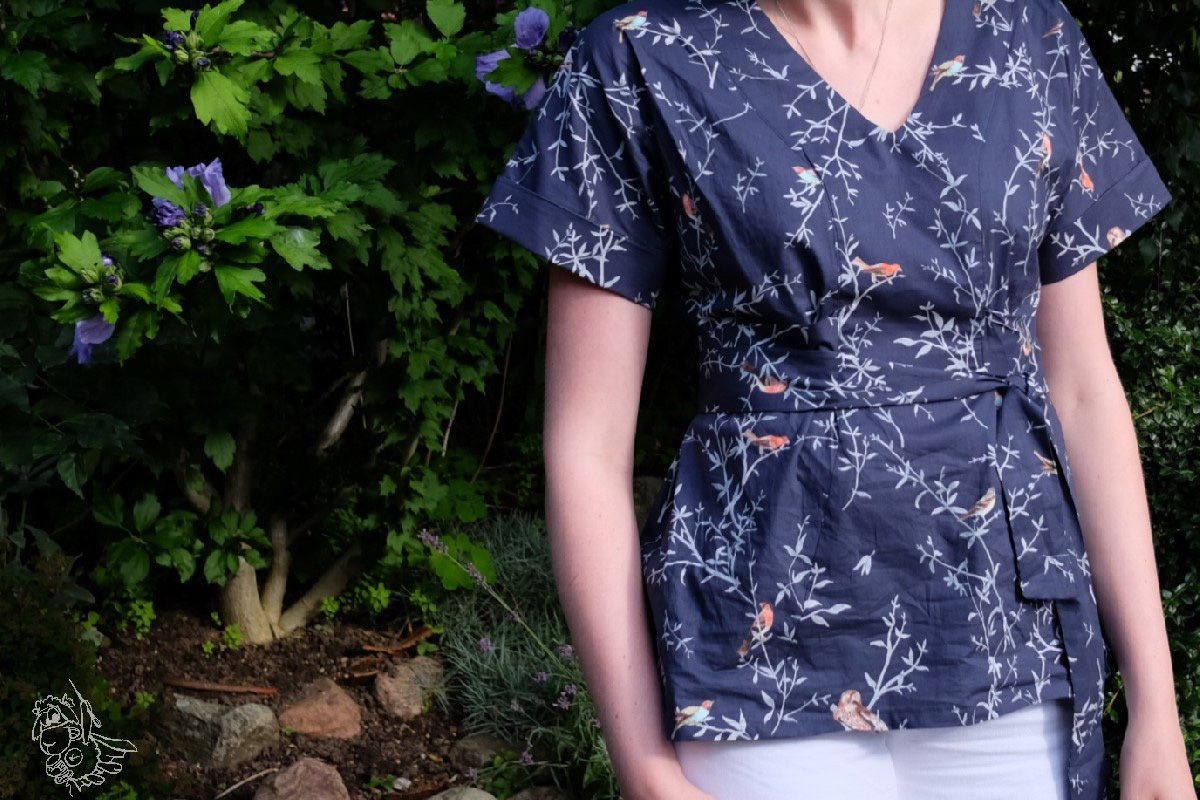 Vor einiger Zeit fragten Bettina von Stahlarbeit und Marie von Sew Mariefleur wer Lust hätte an einer kleinen Blogtour zum Tea House Dress von Sew House Seven teilzunehmen. Das Schnittmuster gefiel mir auf Anhieb und ganz besonders in der Topversion und da es sich gemeinsam immer besser näht, war ich gerne dabei.
Some weeks ago some lovely ladies had the brilliant idea of an international blogtour with the great pattern named Tea House Top and Dress by Sew House Seven. After an Invitation of two Blogger friendsand after I have fallen in love with this beautiful pattern at the first glance I joined the small group.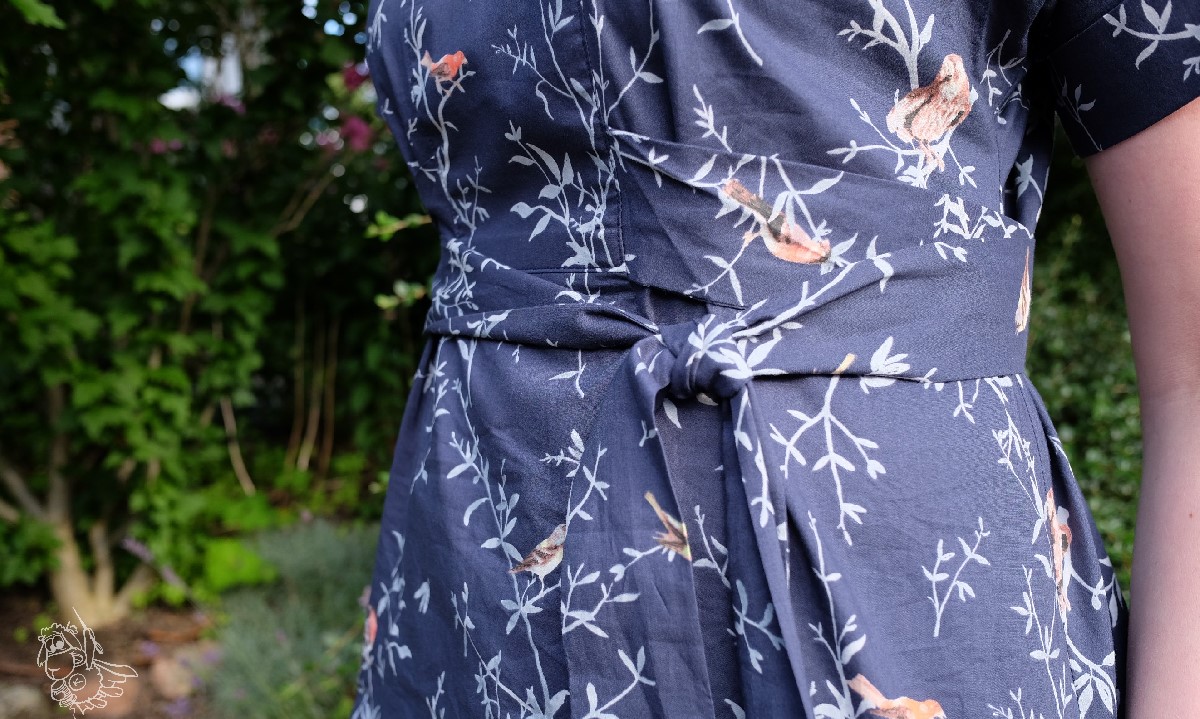 Das Tea House Top bzw. Kleid ist japanisch angehaucht und besticht durch die Einsätze und die Art und Weise des Nähens. So habe ich zumindest noch keine Bluse genäht – einiges konnte ich beim Nähen meines Tea House Tops lernen. Durch die geschickte Verarbeitung werden ganz wenige Nähte nur versäubert, die anderen werden alle geschickt unter dem Beleg versteckt.
The style of the Tea House Top and Dress is inspired from japanese kimonos. The pattern design is very Special and the way of sewing was new for me at some Points. Due to the design the serger is only needed a few times all other open edges are hidden by the facing.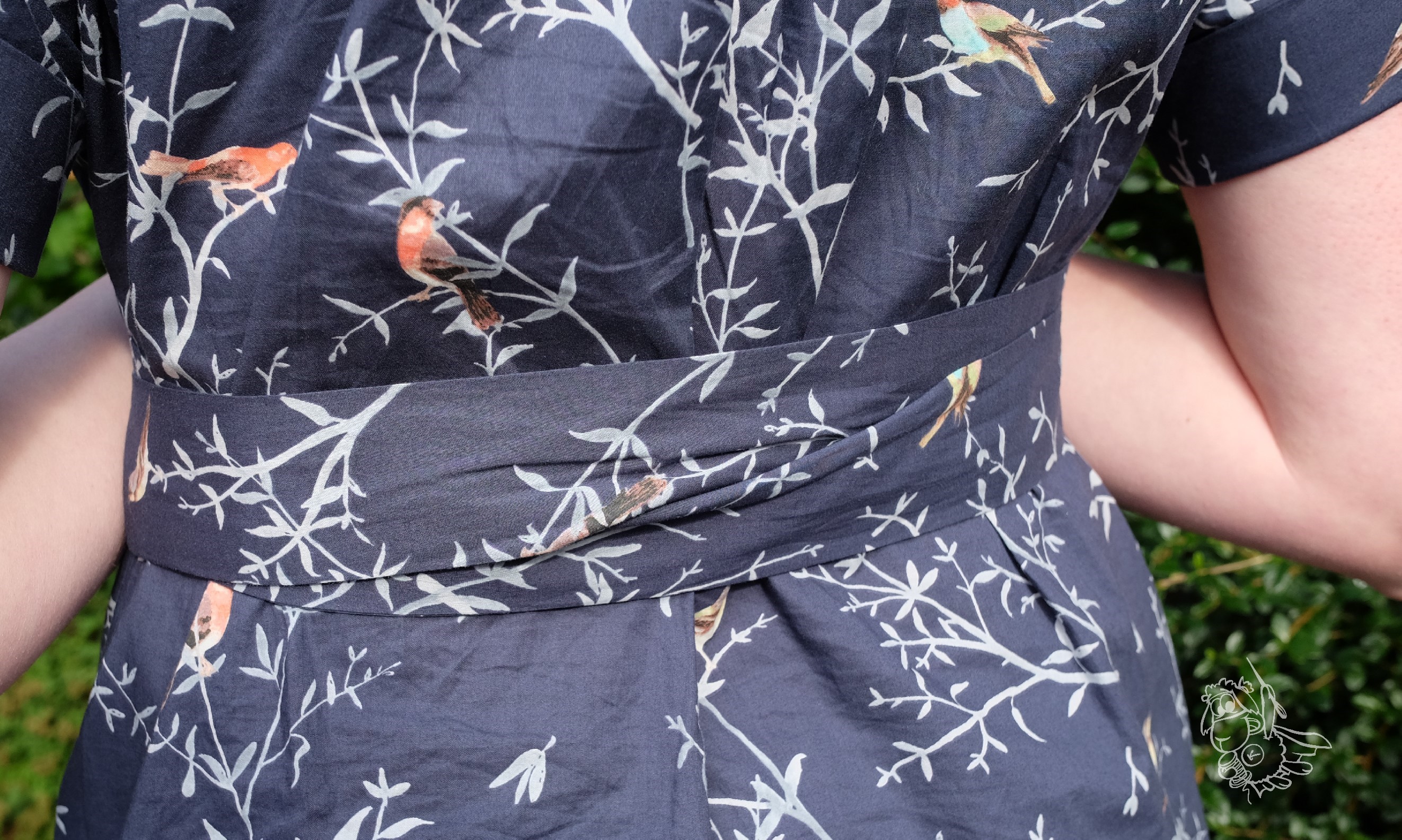 Der von mir verwendete Stoff gilt als leichter Quiltstoff, wunderbar weich und schön fallend – nur ganz wenig knitteranfällig. Das Design ist von Robert Kaufmann und heißt Woodland Clearing. Als ich das Design sah, hatte ich bereits den Schnitt und war noch auf der Suche nach einem Stoff, aber wie es manchmal so ist, durch Zufall stößt man auf den perfekten Stoff. Das Muster haucht dem Schnitt noch ein wenig mehr Japangefühl ein. Von dem 2m habe ich tatsächlich nur noch Reste übrig.
The design of the fabric gives an even more japanese feeling to my Tea House Top. And because I can't describe it better than Robert Kaufmann: "The high Count combed Cotton lawn is beautiful smooth and soft. This lawn is a lighter weight fabric ofthe quilting Cottons with a luxurios feel and drape." Sounds perfect? Is perfect for the Tea House Top.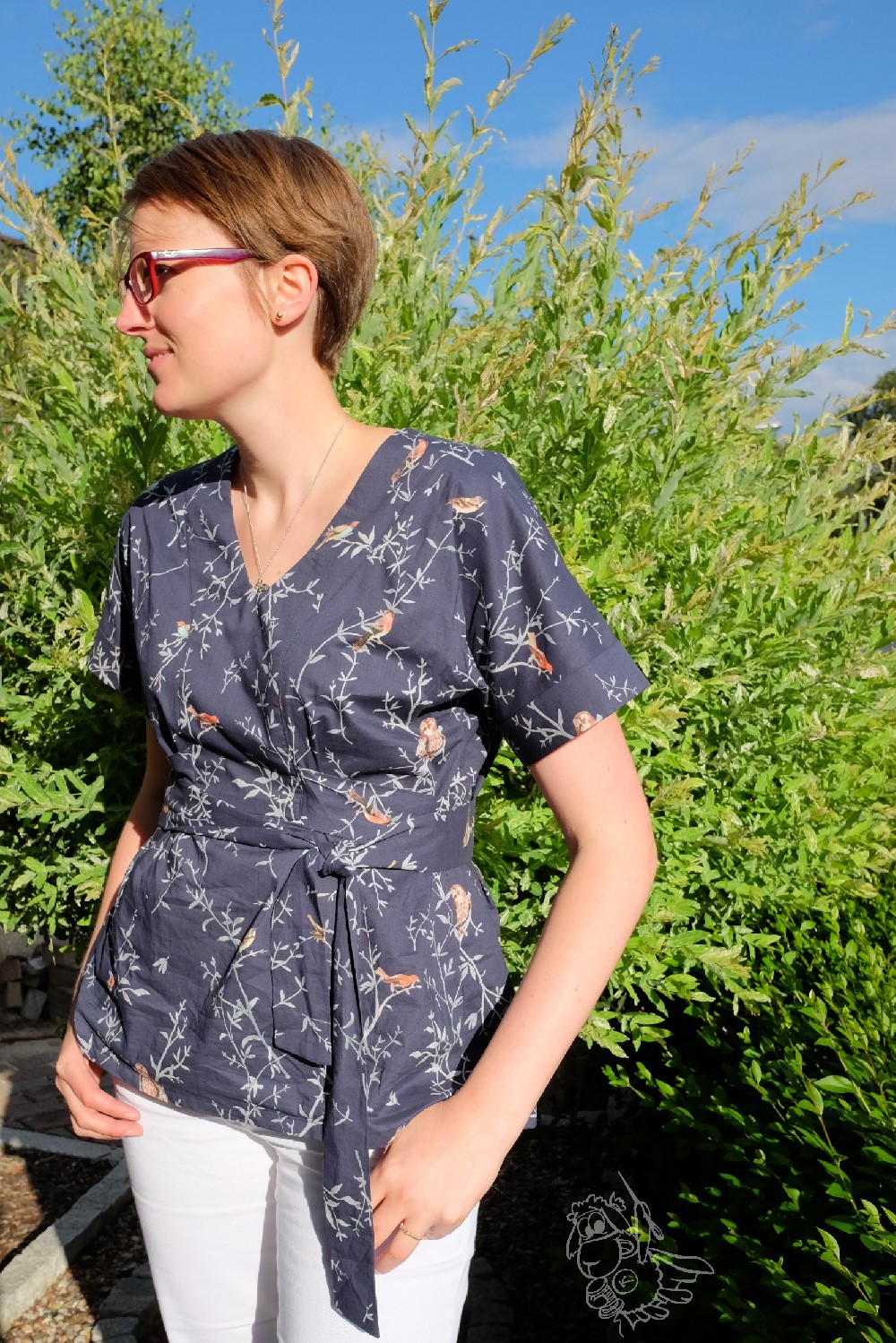 Bevor ich euch gleich die restlichen Teilnehmer der Blogtour nenne, noch zwei drei Worte zum Schnitt an sich: Der Schnitt ist super erklärt und mit hilfreichen Bildchen versehen, die Passform ist in meinen Augen super und schmeichelt der Figur (in diesem Fall meiner, aber ich finde auch alle anderen Beiträge der Blogtour sind perfekt gelungen und ein jedes Tea House Top oder Kleid ist einzigartig und passt perfekt zu der Erstellerin). Am Schnitt selber habe ich nichts geändert, Schultern muss man hier nicht verbreitern und auch die Länge habe ich nach Ausmessen so gelassen.
Just some words to the pattern itself: It's perfectly described and every step has a helpful picture. The Fitting of the finished garment is absolut great and every single blogtour member made an outstanding piece for her own wardrobe. I made no changes, no shoulder adjustment or adding some length. It's just the way I copied it from the pattern sheet.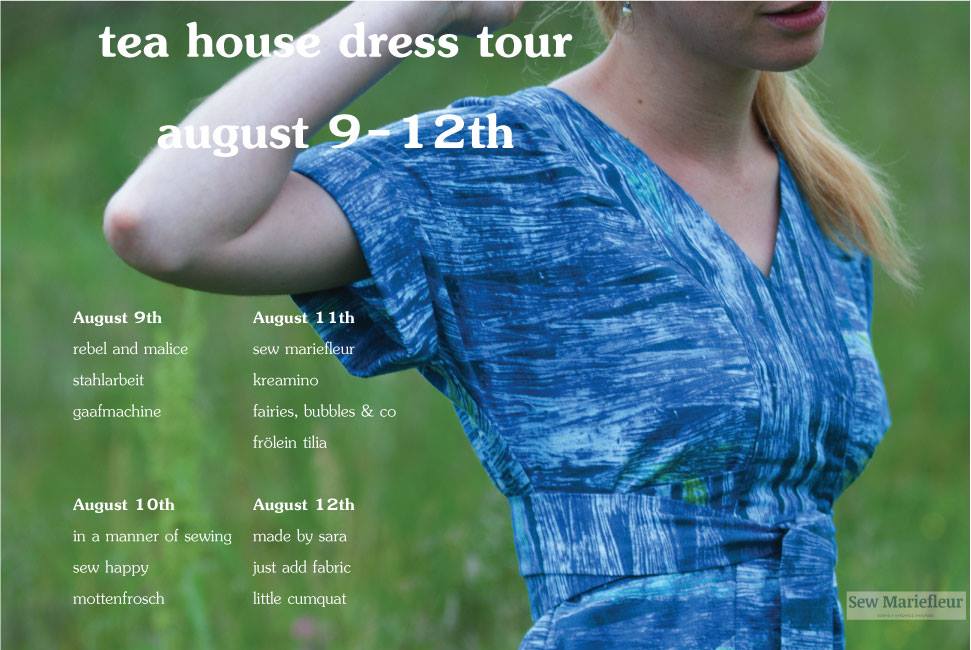 Lasst mich euch die anderen Blogtourteilnehmer vorstellen:
Let me introduce you the other members of the blogtour:
Dienstag / Thursday August 9th
Melissa // Rebel and Malice
Bettina // Stahlarbeit
Nelleke // Gaafmachine
Mittwoch / Wednesday August 10th
Andreia // In a manner of  sewing
Soraia // Sew Happy
Stefanie // Mottenfrosch
Donnerstag / Thursday August 11th
Fleurine // Sew Mariefleur
Maria // Fairies, Bubbles & Co
Eveline // Frölein Tilia
Freitag / Friday August 12th
Sara // Made by Sara
Emi // Just Add Fabric
Thao // Little Cumquat
Aber das ist noch nicht alles… Ihr könnt auch ein Schnittmuster von Sew House Seven gewinnen! Was müsst ihr dafür tun? Ihr geht auf den Eröffnungspost von Nelleke und hinterlasst ein paar liebe Worte in einem Kommentar und schon seid ihr im Lostopf! Ich wünsch euch Glück, die Schnitte sind alle wunderschön!
That's not the end of todays post… you can win a pattern of Sew House Seven. To win it, you have to hop over to the first post of this blog tour which can be find by Nelleke. Leave some nice words and you are in! Good Luck!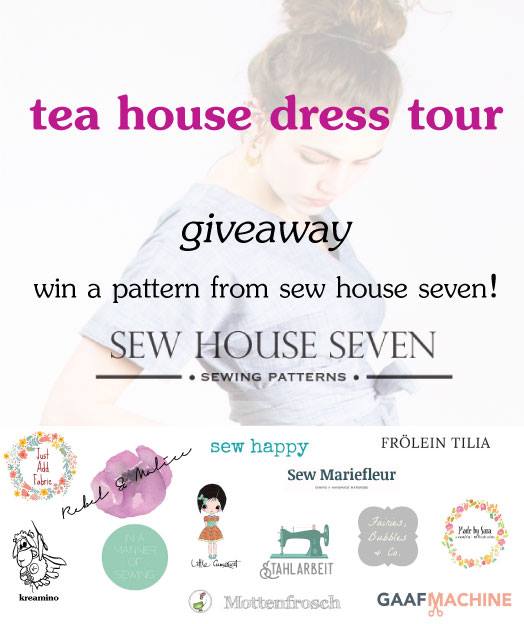 Damit verabschiede ich mich von heute und wünsche euch allen einen feinen Donnerstag!
Thanks for visiting my blog and I hope you had a nice tea time. Many thanks to Nelleke for hosting this lovely blogtour! The Earl Grey is waiting for you my dear 😉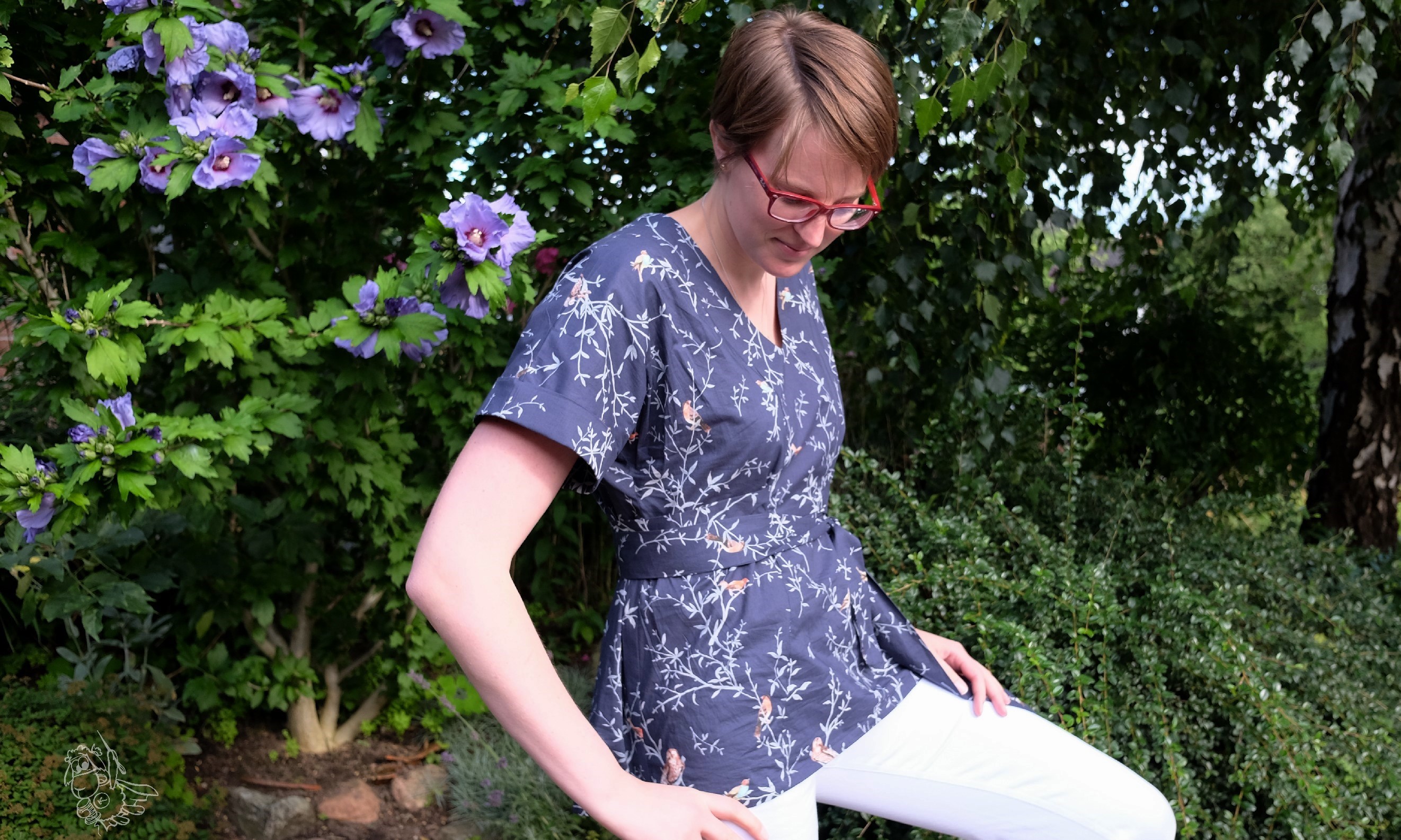 Herzlichst eure Dominique
♥
Schnitt / Pattern: Tea House Top and Dress von / by Sew House Seven
Stoff / Fabric: Woodland Clearing von / by Robert Kaufmann
verlinkt bei RUMS