Dieser Post ist zweisprachig – zuerst kommt der deutsche Teil und im Anschluss der englische Teil. Aber bitte, liebe deutschen Leser, überspringt nur den ersten englischen Teil über das Schnittmuster etc. und schaut euch unbedingt die Verlosungen im Anschluss an!
This post is written in german and english. I will start with the german part (enjoy the pics in the meanwhile) and will continue and end in english! Don't miss the giveaway!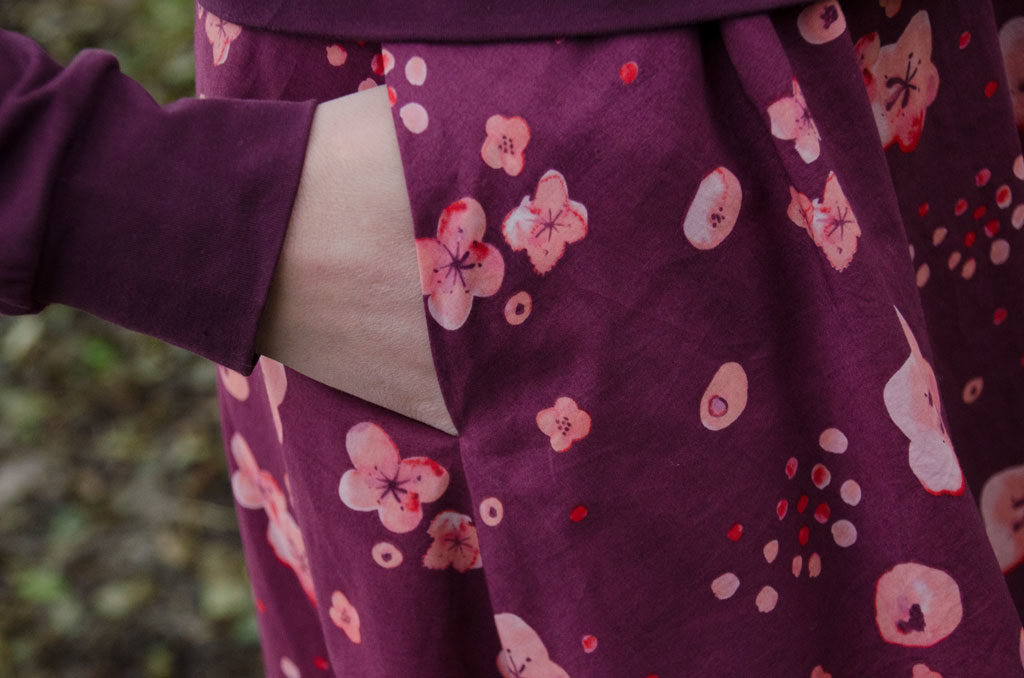 Wie ihr wisst, nähe ich ab und an englischsprachige Schnittmuster (okay, mittlerweile sind die meisten meiner genähten Schnitte auf englisch). Dazu gehören unter anderem die Schnittmuster von Kennis, dem kreativen Kopf hinter Itch to Stitch. Kennis entwirft moderne und zugleich elegante Schnitte, die allesamt alltagstauglich für sowohl Freizeit, als auch das Büro sind. Kurz gesagt: Ich mag die Schnitte von Kennis und nähe diese sehr gerne. Umso mehr hat es mich getroffen, ihren Newsletter zu lesen, in dem sie schreibt, dass sie Opfer eines Einbruchs gewesen sind und nun alles für sie notwendige zum Arbeiten geklaut worden ist.  (Überlegt einmal kurz, wie es uns Nähbloggern ohne Nähmaschine, Computer und Kamera gehen würde… wie muss es dann einer Schnittdesignerin gehen?)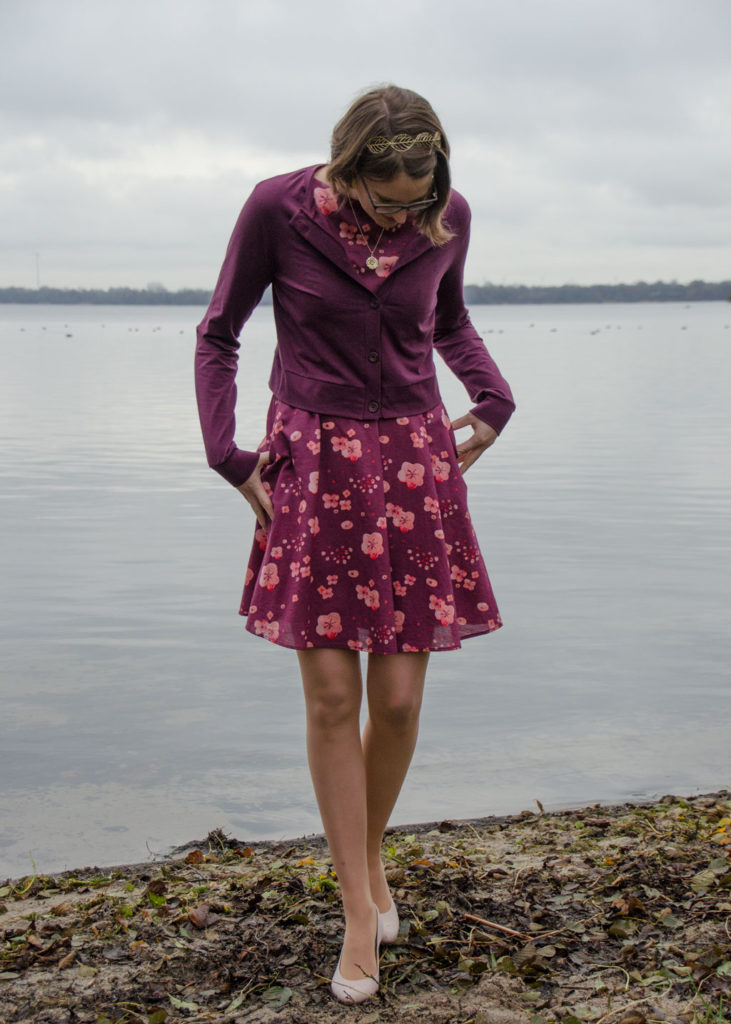 Aus Kennis Repertoire besitze ich mittlerweile ein paar Schnittmuster und die meisten habe ich davon sogar bereits umgesetzt. Wollt ihr wissen, welche ich habe und schon genäht worden sind? Dann mal los:
Und definitiv wird der "La Paz" Blazer noch einmal in meinen Besitz übergehen, sobald ich den passenden Stoff gefunden habe. Und auch die Jacke "Hvar" kann ich mir toll vorstellen und das Kleid Anza sowieso.
Wie ihr seht, meine Itch to Stitch Schnittmustersammlung kann definitiv noch erweitert werden. Die Schnitte gefallen mir auch einfach zu gut.
Einige der Schnittmuster sind mittlerweile auf deutsch zu erhalten, schaut mal bei Näh-Connection vorbei.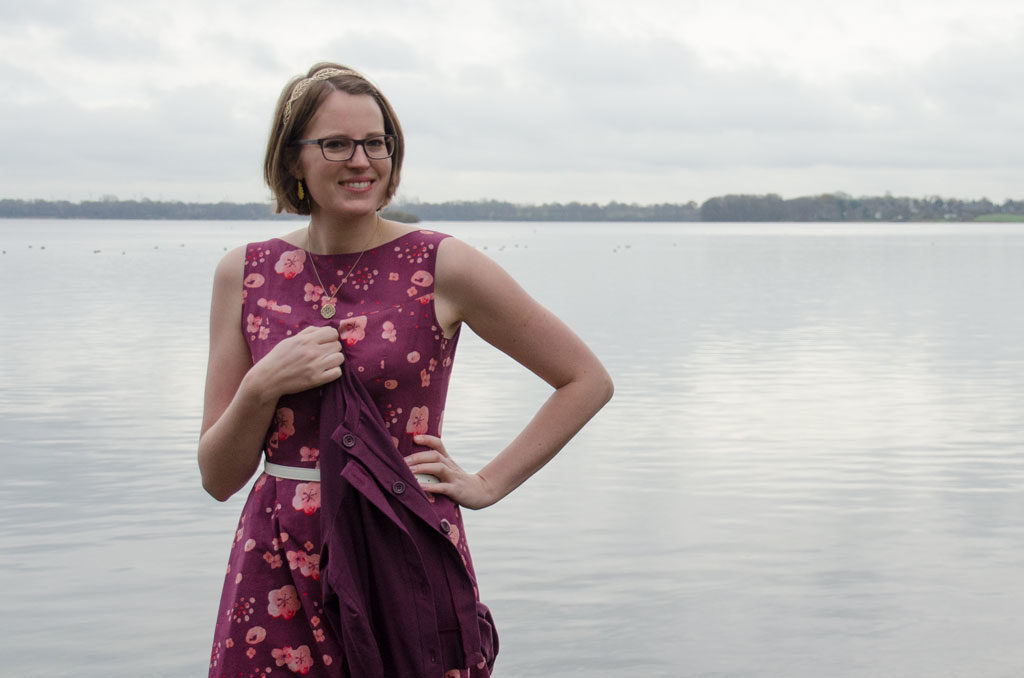 Um Kennis ein wenig zu unterstützen und ihr bei der Wiederbeschaffung ihrer Arbeitsgerät zu helfen, ist diese Itch to Stich Love Tour entstanden. Im Rahmen dieser Tour zeige ich euch heute mein erstes Kleid Marbella, welches ich euch hier schon angekündigt habe.  Das Kleid aus Batist von Monaluna ist für zwei dieses Jahr anstehende Hochzeiten entstanden und hat es nach ebendiesen zwei durchfeierten Nächten heute endlich auf den Blog geschafft. (Der halbe Tellerrock lädt aber auch förmlich zum Tanzen ein.)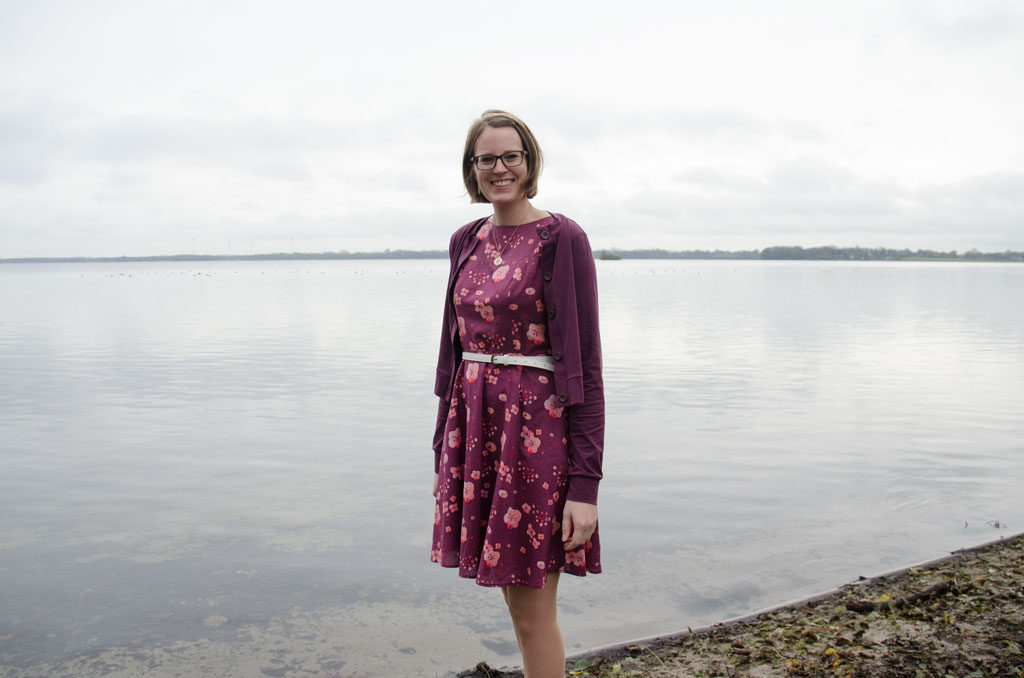 Der voranschreitenden Jahreszeit angepasst, habe ich mir kurzerhand noch einen Lisbon Cardigan in der kurzen Länge dazu genäht. Durch meine ursprüngliche Verlängerung im Rumpf, hätte der kurze Cardigan jetzt noch einen Ticken kürzer sein können, er endet knapp oberhalb meines Hüftknochens und somit unter der Taille. Aber so passt er irgendwie auch etwas besser zu einer Bluse.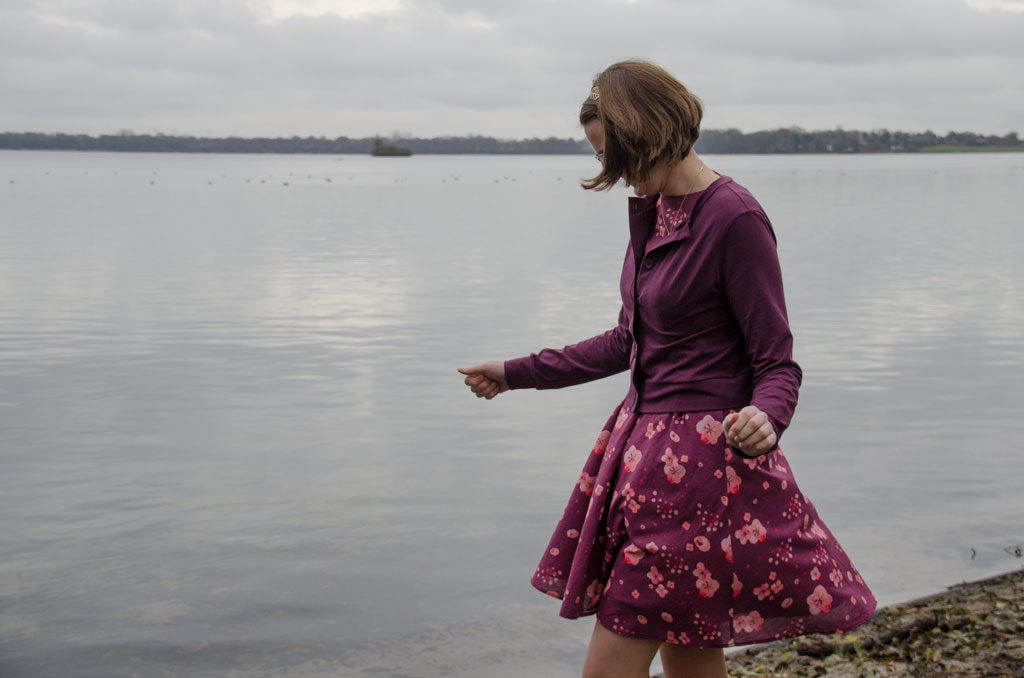 Bei diesem Kleid habe ich das Oberteil des Kleides noch nicht verlängert, weshalb der Gürtel durch sein Eigenleben nicht die Naht zwischen Rockteil und Oberteil verdeckt (und ich hab noch drüber nachgedacht und es beim Zuschnitt dann doch vergessen, weil ich das Schnittmuster dann doch nicht sofort angepasst habe und auch kein Probeteil nähen wollte… ). Ich sag mal: Das soll so, schließlich wollte ich gelassener werden. Bei meinem zweiten Marbella Kleid, ist es dann aber verlängert 😉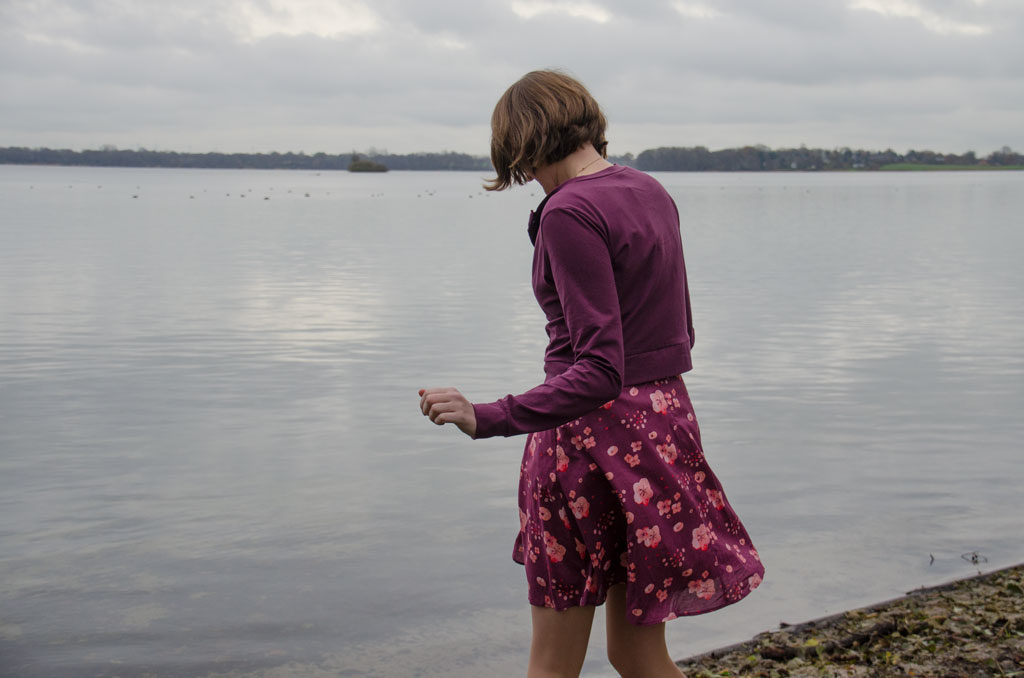 So viel aber heute nur zu mir. Schaut euch auch die wundervollen Beiträge der anderen ITS – Blogger an. Ich bin begeistert, dass ich Teil dieser tollen Tour sein darf. Wie fast immer, spielen Zufälle eine große Rolle und so sind mein unverbloggtes Kleid Marbella und ich spontan in diese Blogtour aufgenommen worden. Was manchmal aus einem Gespräch alles entstehen kann…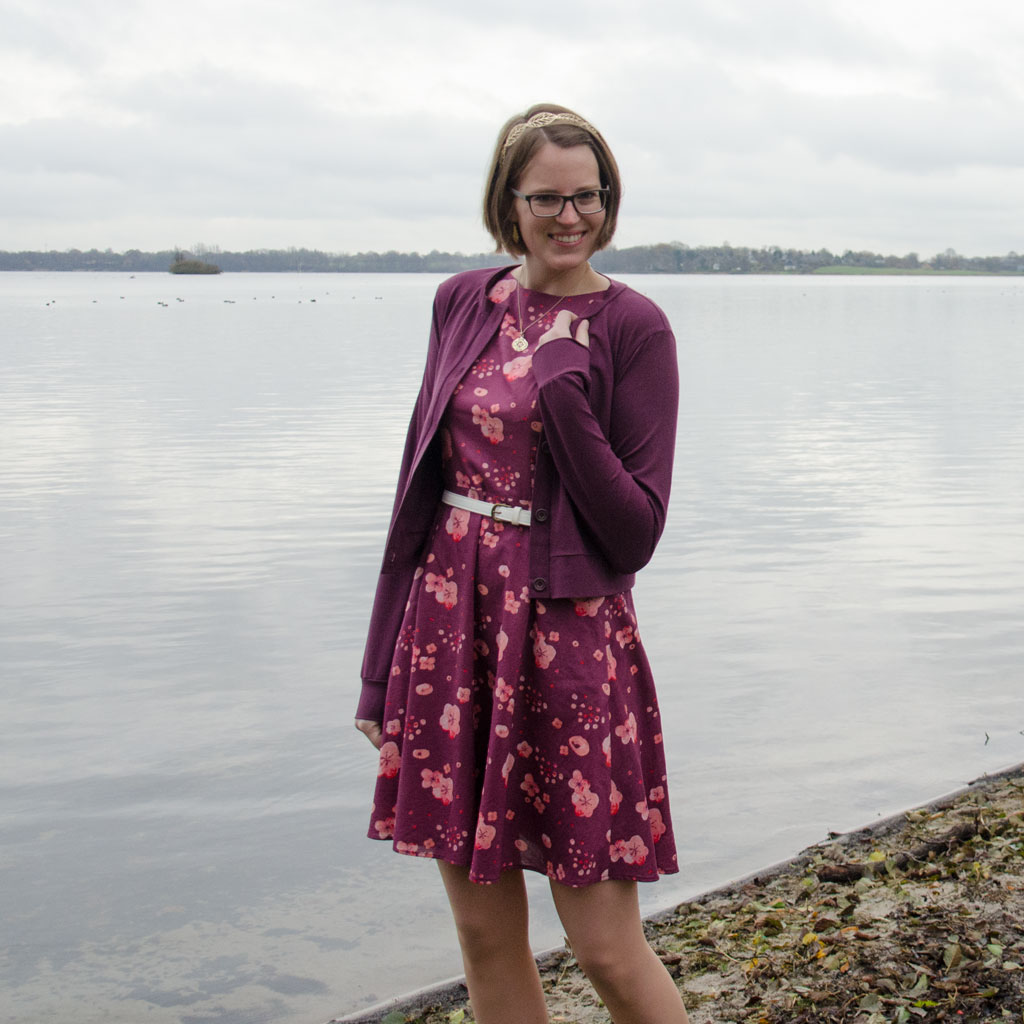 Since I'm sewing Patterns from Indiedesignern, I'm sewing with patterns from Itch to Stitch. Kennis  – the desigern of Itch to Stitch – has such a fantastic pattern collection. Kennis herself is describing her patterns like: "Itch to Stitch's designs are really my personal style. They are modern and elegant. Perhaps they are not always simple to sew (because I love details!), but they always have high-quality finishes. Of course I want them to fit well; that's why most of my designs have many sizes and different cup options." I totally agree with her description (do I have another option than writing this?).  But anyhow the fit of all garments I've made with her patterns is excellent and it's so well described, you just have to follow her instructions.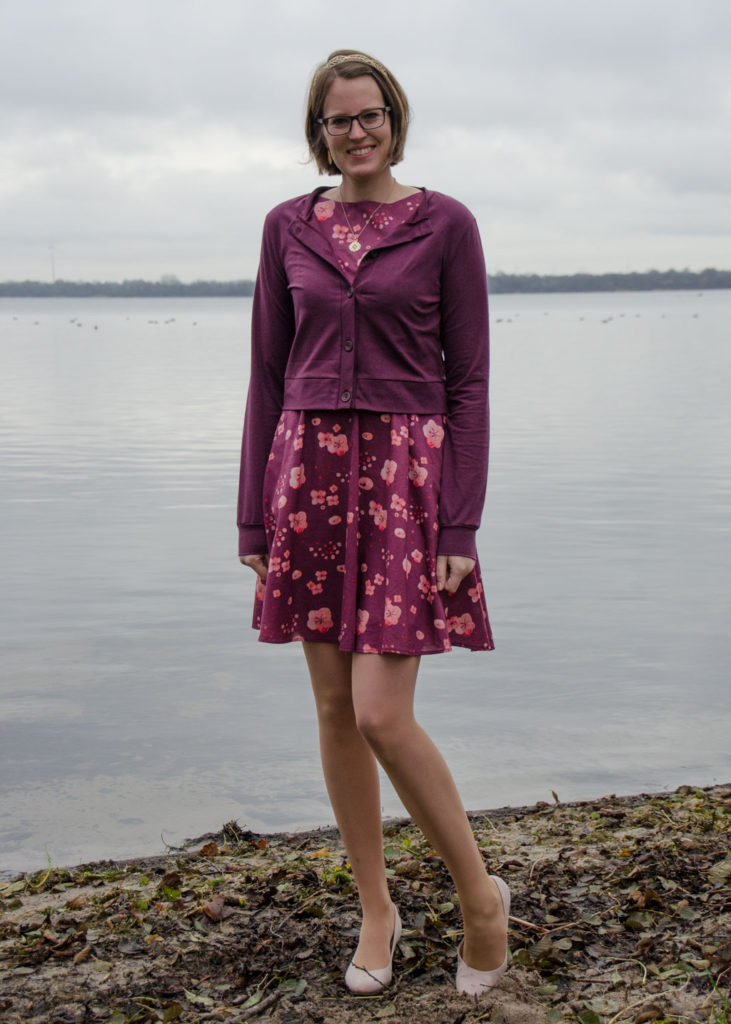 Her patterns are wearable at night and day, must be one reason why I like sewing with her Patterns so much. You can find the list of all already sewn Patterns above in the german part. I don't want to repeat myself to much in this post, some readers might even read both versions – you never know.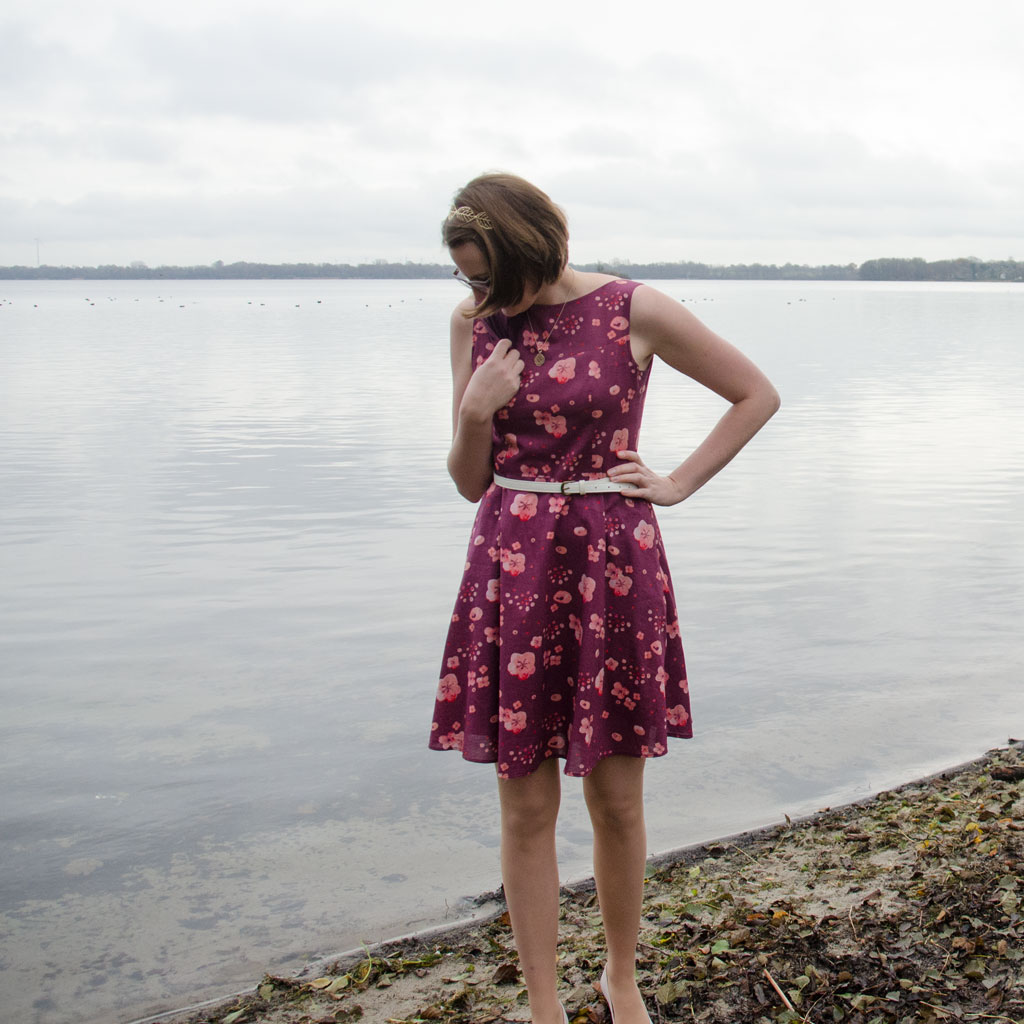 As you might have noticed and read in her newsletter: Kennis Wong the designer behind Itch to Stitch Patterns returned from holidays to find her house thoroughly burglarized. Every necessary item for her work as a pattern designer is lost: her sewing machine, her camera, her computer etc. Can you imagine how to feel after such a burglary especially as a sewing blogger? Must be terrible in any case. The love to her patterns is one of many reasons to support her.  This week a group of international sewing bloggers is showing their love for ITS patterns and for Kennis by showcasing their favourite patterns. But not just the bloggers, also tour Sponsors are showing their love and Support Kennis by donating a great collection of prizes for 2 great giveaways.
Have Fun, join the giveaway and the linkparty, spread love and support Kennis!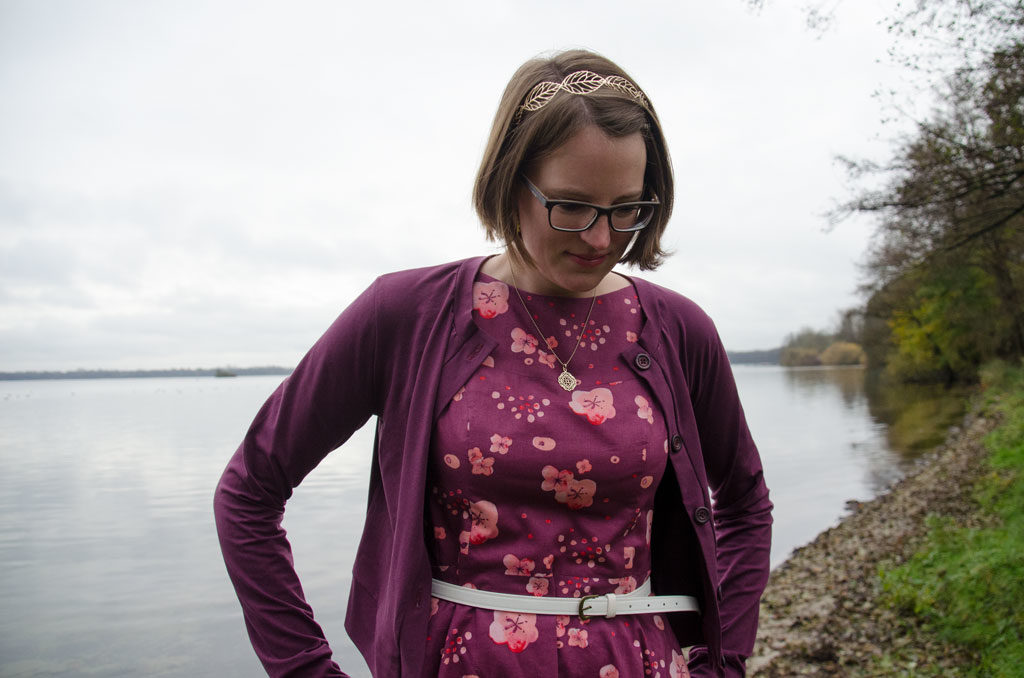 Your ITS Love bloggers are
Monday: Sew Sophie Lynn, Merritts Makes, Sewing with Sarah, Sewing with D
Tuesday:   Shalini's Blog, Auschicksews, Rebel and Malice, Sewing Vortex
Wednesday:  Replicate Then Deviate, mahlicadesigns, Sewing with D, The Petite Sewist, kreamino
Thursday: Sewing Curves, Creative Counselor, Sew Mariefleur,  Fairies, Bubbles & Co, Sewing by Ti
Friday: Harper+Lu, MeMade, On Wednesdays We Sew, Heather Handmade, Bellevi,  and visit by mooglii on IG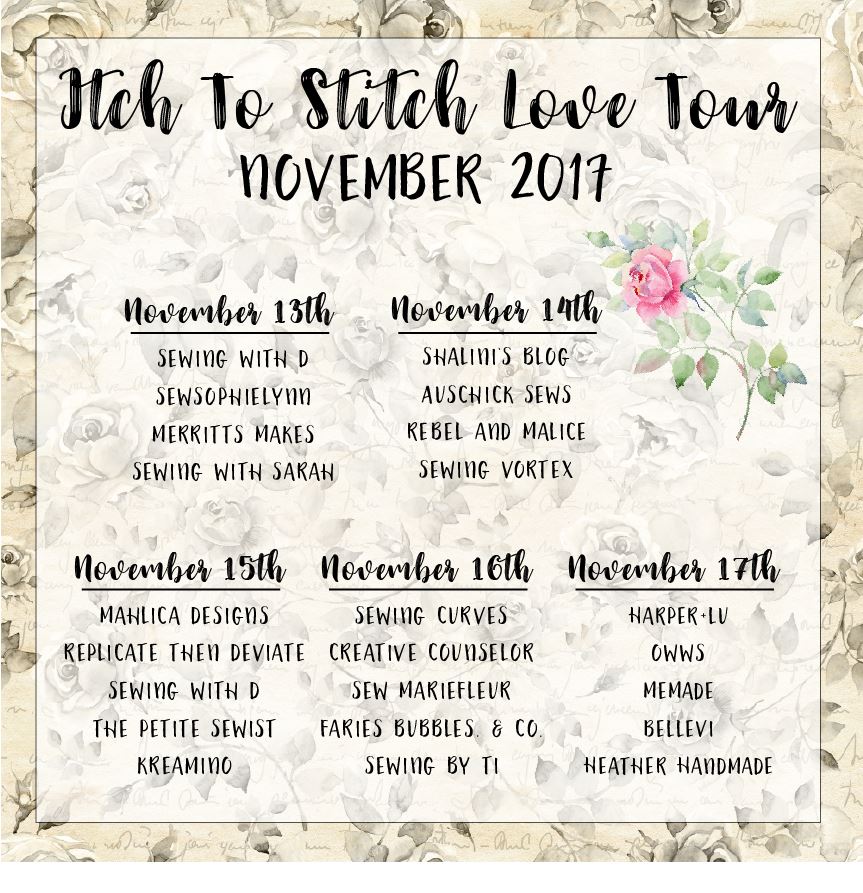 The ITS Love Tour sponsors have been so generous in support of Kennis of Itch to Stitch that we've been able to put together several prize packages to share with you.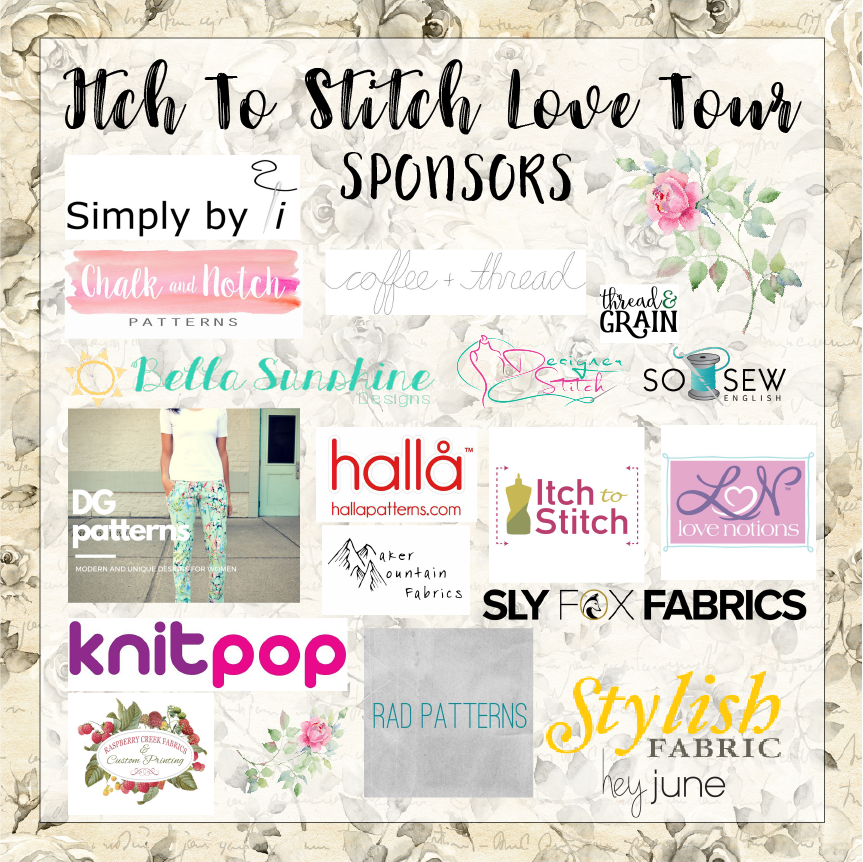 First, you may enter our giveaway to win one of three prize packs:
Prize Pack #1 includes:
5 Itch to Stitch Patterns
$25GC to Simply By Ti
$50 Raspberry Creek Gift Card
$50 Bella Sunshine gift card
 Prize Pack #2 includes:
$50 Knit Pop GC
$25 Designer Stitch GC
$25 Chalk and Notch GC
3 patterns of choice from Coffee And Thread
 Prize Pack #3 Includes:
$15 Thread & Grain store credit
$25 Maker Mountain Fabrics GC
3 patterns from Halla Patterns
a Rafflecopter giveaway
https://widget-prime.rafflecopter.com/launch.js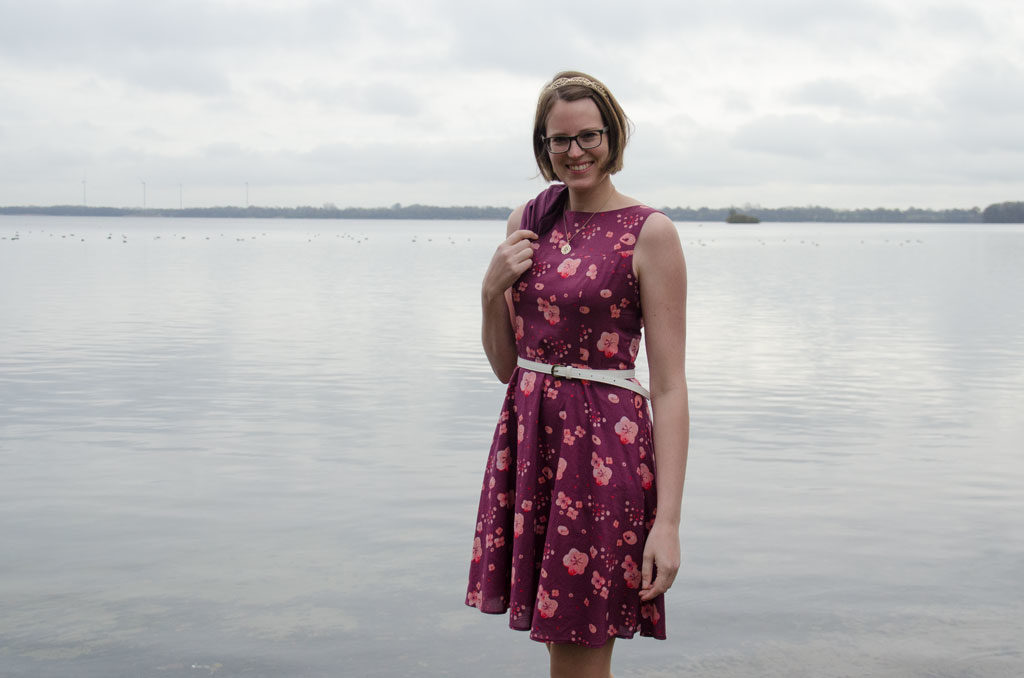 Your second way to win is to share with us your recent Itch to Stitch creations (made between October and November 2017). Add your creations to our Link Up Party before Nov. 20th for a chance to win one of two prize packs.
LinkUp Prize Pack #1 includes:
5 Itch to Stitch Patterns
A $40 value PFRE Sly Fox Fabrics.
$25 Maker Mountain Fabrics GC
$50 Love Notions GC
LinkUp Prize Pack #2 includes:
$25 Stylish Fabric GC & sewing box kit
$25 Chalk and Notch GC
5 patterns from Rad Patterns
Pattern of choice from DG Patterns
Giveaway and Linkup prize winners will be announced on or about November 21st.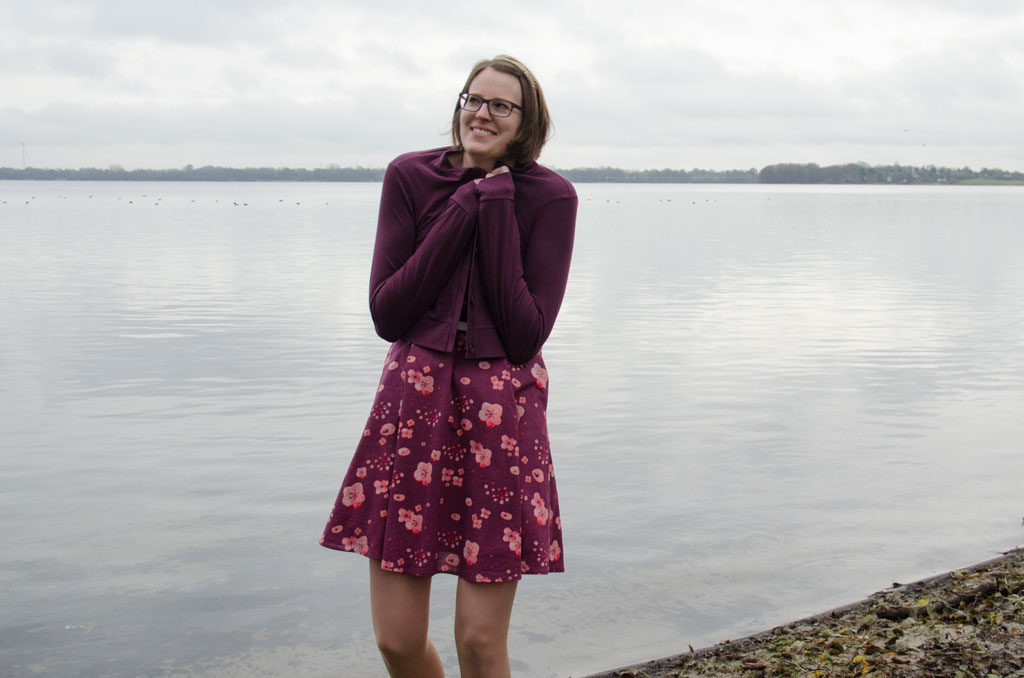 Schnitte: Marbella Kleid und Lisbon Cardigan von Itch to Stitch
Stoffe: Monaluna Batist von Eulenmeisterei
verlinkt bei: MeMadeMittwoch und Afterworksewing